When we first began our "Coastal IT 4.0" planning, we wanted to receive honest and direct feedback from our clients on how we were performing for them. There are many ways to "score" a service provider, from Yelp's and Facebook's 5-star recommendation structure to a thumbs-up or down score. After several evaluations, we have decided to deploy Crewhu, a simple 3-level client happiness discovery tool. When a service issue has been resolved, we will send our clients a final email explaining the resolution of the issue as well as three faces: green smiley, yellow neutral face, and a red angry face. By clicking on a face, our clients will be able to provide additional feedback on how we served them if they so choose.
Feedback has already started to come in!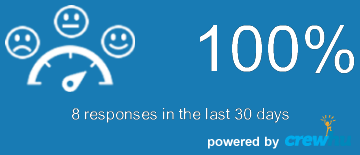 We value this feedback tremendously, so if we are assisting you, please let us know how we did!